Custom Sewing Services for Established OEMs
We Offer Custom Sewn Products To Meet Our Customer's Unique Requirements
We specialize in complex sewn products that require high strength, low stretch, or durability in extreme weather conditions and can be made with webbing woven from specialty yarns. We will work with you on the design, engineering, and production to meet your specific requirements. 
As an OEM manufacturer with over 110 years of experience, Sturges prides itself on having the ability to design, weave, manufacture, sew and test a product that helps our customers become successful in their business. Our industrial contract sewing services are used in the industrial, fire and safety, military industries, and more. 
Request a quote today to see how we can assist you with your next project!
Sturges Industrial Sewing Process
Sturges partners with you in developing a
high-quality product
. Here's how our
industrial sewing
process works:
We will record your design parameters, including physical dimensions, performance requirements, compliance with industry standards, aesthetic qualities, cost expectations, and environmental conditions.

We will then provide a cost estimate, and if acceptable, prototype samples can be produced, and compliance with design inputs can be verified. 

We will prepare a proposal for you supported by objective data. 

Upon receipt of your order, we will proceed with the creation of production documents. They include webbing and weave construction specifications, a detailed sewn assembly drawing with a materials list and performance requirements, a control plan showing all quality aspects in the production process, and testing procedures. 
Sturges understands and values the importance of speed and accuracy in the personalized
industrial sewing
process and will strive to meet all of your expectations.
See how we exceeded our customer's
pull test expectations with our custom sewn straps
.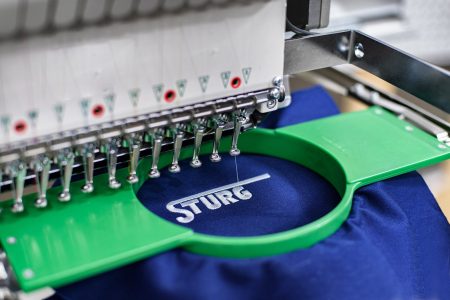 Sturges Offers A Wide Range Of Custom Sewing and Assembly Services
What custom sewing services do you provide? 
Sturges Manufacturing offers custom sewn strap assemblies, pouches, shoulder pad assemblies, slings, energy-absorbing lanyards, equipment harnesses, and more to established OEM companies. Contact us today to see how we can help you with your contract sewing project.
What industries use custom webbing?
The main industries that we provide custom webbing services to include the military, industrial, fire protection, and fall protection industries.
Add Your Heading Text Here