Nomex® is a common spun fiber used in high-heat applications, most commonly firefighting applications. Nomex® is flame-resistant, resistant to high-temperatures, abrasion-resistant, and will not melt or drip, and carbonizes at 800°F Nomex® retains a soft feel, ensuring comfort when used as part of protective clothing or fire gear.
Nomex® is commonly used in conjunction with Kevlar® to achieve maximum strength and fire-resistance. Another popular characteristic of Nomex® is its ability to be dyed to order, allowing for enhanced branding capabilities.
Beyond firefighting, Sturges' Nomex® webbings and straps are used in fall protection and industrial OEM applications. Nomex® also has properties to benefit aerospace projects and has been incorporated into several NASA vehicles.
These products are component recognized by Underwriters Laboratories:
NFPA 1971 Structural Fire Fighting and Proximity Fire Fighting
NFPA 1977 Protective Clothing and Equipment for Wildland Firefighting
NFPA 1981 Open-Circuit Self-Contained Breathing Apparatus (SCBA) for Emergency Services
NFPA 1983 Life Safety Rope and Equipment for Emergency Services
NFPA 2112 Flame-Resistant Garments for Protection of Industrial Personnel Against Flash Fire
Products
Nomex® Engineered Webbing

Sturges Part No. X-6908
Description: 1" Natural Nomex® Webbing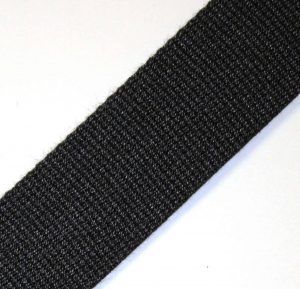 Sturges Part No. 36522
Description: 1-1/2″ Black Nomex® Webbing; UL Model #X-6064; Product compliant with Berry Amendment; Various widths and colors available.