Manufacturing High-Performance Kevlar® Webbing for Established OEMs
Sturges Manufacturing Company produces high-performance webbing for various uses, including flame-resistant clothing, harnesses, and helmets. Our in-house test lab ensures our products conform to the highest industry standards for critical applications. Our products are backed by the UL Certificate of Component Recognition for multiple NFPA standards.
Kevlar®, manufactured by DuPont, is a very well-known and frequently used para-aramid fiber, used in firefighting, fall protection, and industrial OEM applications. Kevlar® is flame and heat-resistant (decomposing at 900°F) and is commonly used in conjunction with Nomex® to create a unique look or feel.
Note that these are just a small sampling of products that we offer. Don't see a product that will meet your requirements? Please contact us. We have been making custom solutions for over 100 years and would be more than happy to help you develop a product that meets your needs.
Kevlar® Engineered Webbing Products
Kevlar® and Nomex® are registered trademarks of the E. I. du Pont de Nemours and Company
Dyneema® is a registered trademark of DSM Protective Materials.
Vectran® is a registered trademark of Kuraray America, Inc.
Ensorba® is a registered trademark of Sturges Manufacturing Co., Inc


Common Aramid Webbing Applications
SCBA Harnesses

Drag Rescue Devices

Straps 

Sewn Assemblies

Belts

Chinstraps

Fall-Restraint Harnesses

Structure Reinforcements

Fire Fighting Equipment

Military Equipment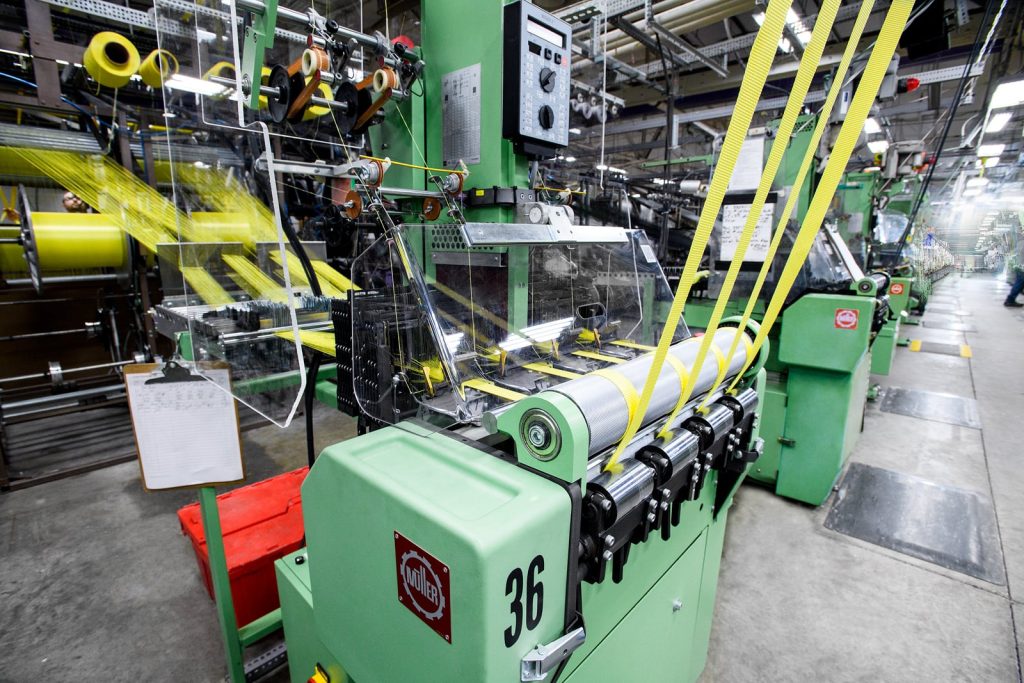 Advanced Properties of Kevlar® Webbing
High strength to weight ratio

Low elongation to break

Low thermal shrinkage

Good chemical resistance (Kevlar® will degrade in Formic, Hydrochloric, and Sodium Hydroxide acid)

Good heat & flame resistance

Excellent ballistic properties

High cut resistance

UV resistance good (black)

UV resistance poor (natural)
FAQs about Kevlar® Webbing
What's the difference between Kevlar® Webbing & Dyneema® Webbing?
While Kevlar® and Dyneema® webbing both have a high tensile strength, they are ideal for different applications.. Kevlar® webbing is known to have better heat resistance than Dyneema® Webbing, so for applications that require your webbing to be used in a high heat environment,  Kevlar® is the ideal choice. For environments that have high UV or moisture, Dyneema(R) would be the better choice. If you have a project coming up and are unsure of which webbing to choose, contact us, and we will help you find the best webbing for the job.
How much is Kevlar® webbing by the foot/yard?
The cost of the webbing is dependent on the design. Please contact us with your specifications, and we will provide you with an accurate quote per your request.